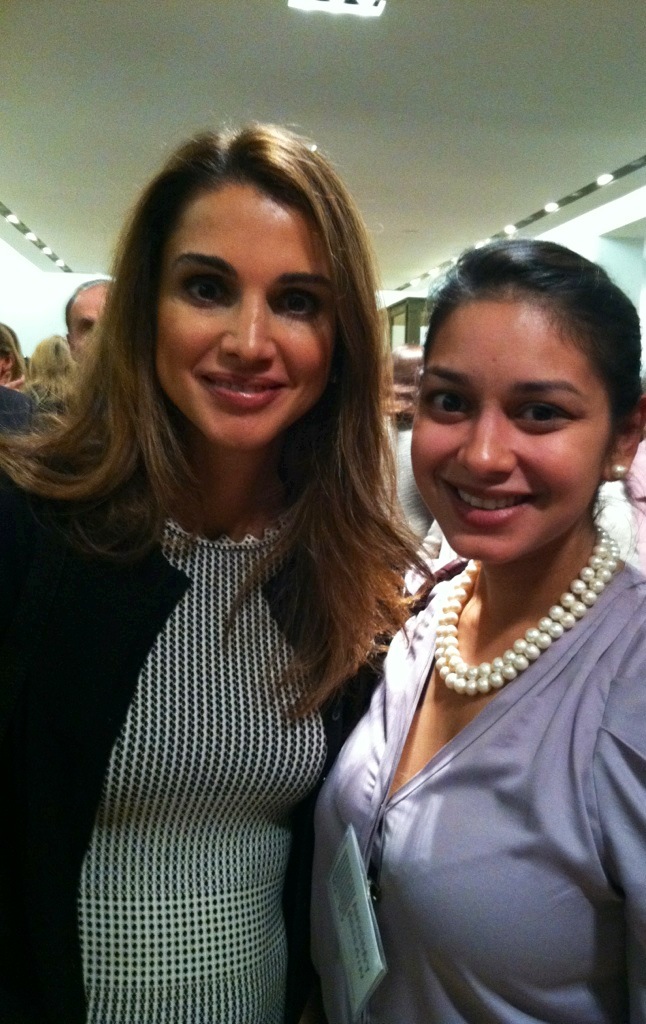 Last week I had the tremendous honor of attending an event with Her Majesty, Queen Rania of Jordan. She was in Washington to promote a great initiative for girls education called "10×10."
The fact that around the world millions of girls are still denied an education, unable to go to school for reasons ranging from having to walk thousands of miles to fetch water for their families to lack of security to their menstrual periods is one of the most frustrating aspects of working in the field of women's rights.
If girls are still unable to access education, what does that imply for the future of the global feminist movement, not to mention the economic development of countries?
The day after the event, I came home to a box from my high school English teacher, Ms. Spisso. I knew she was sending a gift for my newborn daughter, Ava but I never could have expected the magnitude of the present.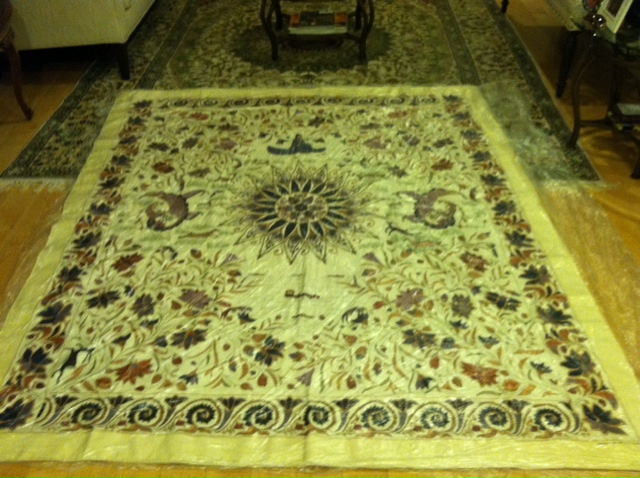 Inside was one of the largest pieces of Nakshi Kantha I have ever seen in my life. This embroidery is one of the oldest forms of folk art in Bangladesh. The needlework is full of iconic cultural symbols commonly derived from life in rural Bangladesh.
As I read the letter Ms. Spisso had written for my daughter, I was overwhelmed with emotion. She told me she wanted to give Ava this gift not only because it represents her cultural heritage, but as an heirloom she can one day pass onto her own children. I can easily say it was one of the most thoughtful and beautiful gifts I have ever received.
I sat on the floor surrounded by packaging that had sealed and protected the quilt during its journey thinking about the day I would give the gift to my daughter, reading her the card that came with it. Far from my family in Bangladesh, I thought about how I would expose my daughter to her mother's culture.
But more than anything, I reflected on the twenty years that had passed since I first met Ms. Spisso as a student in Dhaka in the 1990's. I thought about all the things I learned from her.
Ms. Spisso handed me my first copy of Ms. Magazine when I was a teenager, introduced the word 'feminism' to my vocabulary, taught me to embrace it, and instilled a discipline of good grammar that I still try to adhere to today. Some of the key lessons of being a good journalist I learned from Ms. Spisso's Saturday morning 10am Yearbook class. I am pretty sure it was her recommendation that got me into college.
While we frequently hear about the importance of education in our lives, we rarely hear about the teachers who provide us with it, who influenced us the most. It makes me think of the famous quote by William Arthur Ward:
The mediocre teacher tells. The good teacher explains. The superior teacher demonstrates. The great teacher inspires.
Who is the teacher that played an instrumental role in making you the person you are today? I hope you stayed in touch with that teacher. If you are lucky, one day you will get to tell your child about her. And if you are really lucky, you will get to demonstrate what you learned.